Use the mouse to hold the text you wish to read or the up & down arrows bottom left to reverse your reading
A British legend takes another
ride around the block
THE CLASSIC CHOPPER MAKES A COMEBACK
Every generation has its symbolic products and the Chopper was the essential bike of the 70s. When those red lined tyres rolled onto our streets, cycling was never going to be the same again. And for a long time there has been a void in the style bike market…until now that is. Because for a limited time only, the Chopper is back.
<![if !vml]>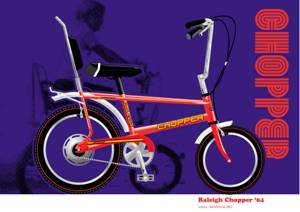 <![endif]>A milestone in influence and design, the iconic Raleigh Chopper re-launches in April 2004 and retails at £199.99.
The bike's original design by Alan Oakley, the then Chief Designer at Raleigh, remains largely unchanged on the new version. Available only in the original Infra Red, the materials in the bike's production are taken from the original Chopper concept, even using the original tyre mould from the 70s.
Click on the image for the full Lee Malin Cancer Research Charity Ride story
The Ledingham Pink Twins lie in waiting. Come on Gary "Get your Chopper out One more time please for us"
Gary sent me in this picture after I received an e-mail stating that "Pink 5 Speeds Still Roool"
Chopper Ed 's Story from The Sun Newspaper
A Christmas Card from Raleigh UK
The New International RCO Club T Shirts £5.99 Inc P+P
Click on Piccy to Go Large