A great day was had by all that attended this event this year
More info to follow or contact ircoc@btconnect.com
THE BIG WHEEL EXTRAVAGANZA
This event will be Hosted by Chopperation-Go & Raleigh-Chopper.net
THE NEW DATE IS April 2006 at Sometime at the Eye
The last event was such a success we going to do it again, When well
I will leave this to you the readers and riders to decide as after all this is YOUR event FOR YOU.
Leaving it till Spring gives us a better chance of sunny weather
We want this to be the Cruise of all Cruises so get your Choppers Out and dusted down ready for the big day
Info@raleigh-chopper.net or Graham@chopperation-go.co.uk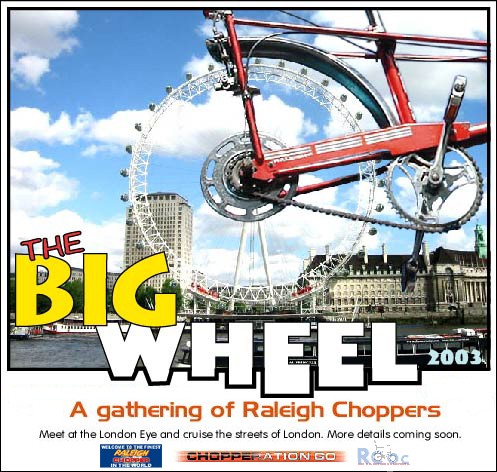 This years route was a good ride we met some great characters on the way, I have had a fantastic response to this meeting and I just hope it is as good on the day as this year was. Bring your umbrellas as it will sure to be raining (lets hope not)

Click on Map to View
I have had some suggestions of cruising round Greenwich where the Cutty Sark T Clipper is dry docked and there is also a tunnel under the river that needs to be ridden along
Anyone wanting a flagpole and a flag to go on it with the Chopperation Go logo on one side and the IRCOC logo on the other for their Chopper e-mail me as I have some available.
Chopper Club T-Shirts are still only £5.99
These pages are hosted & maintained by www.raleigh-chopper.net